BE YOUR BEST BLONDE

Whether it's a natural lift or bold platinum, Color Oops has everything you need.
1. LIGHTEN
Whether you're looking for a subtle glow or going bold, we've got the right bleach kit for you.
Shop Bleach Kits
2. TONE
Tone it down! Reduce brassiness while you condition with our buildable lavender-hued mask.
Shop Brass Correct
3. PROTECT
Protect your new looks! Blonde Protect helps to repair any damage caused from hair processing treatments and heat styling.
Shop Blonde Protect
Conditioning Bleach
$14.99
Providing up to 3 levels of lift, Color Oops Conditioning Bleach is a gentle coconut oil and aloe vera-infused bleach that nourishes your hair while it lightens. This unique oil-based formula allows for a controlled lift to create natural highlights or correct an off-tone color without fear of over-lightening that comes with traditional powder bleach. Gentle enough to use on previously processed or bleached hair. Finish with the included shampoo and conditioner to help restore the hair's pH balance.

Kit Contains:
Conditioning Bleach – 3 fl. oz / 88mL
Oxide – 2 fl. oz / 59mL
Complete Shampoo - .75 fl. oz
Reconstructor Conditioner - .75 fl. oz
Gloves

FEATURES AND BENEFITS

Controlled lift of 2-3 levels
Oil-based and gentle enough to use on previously bleached hair
Added coconut oil and aloe vera to nourish while processing
Kit includes hydrating shampoo and conditioner

IDEAL FOR: A gentle lift on over-processed, thin or brittle hair or to give a subtle lift to your natural color.
Total volume: 5 fl. oz.
HOW-TO
How-To:
Prep hair by combing to eliminate tangles.
Apply petroleum jelly to hairline, neck and top of ears to protect skin.
Wearing gloves, carefully add Bleach Oil into Oxide mixing bottle.
Shake well for 30 seconds and, pointed away from your face, cut tip on applicator.
Working in thin sections apply bleach to clean, dry hair 1/4 inch from scalp.
Ensure even application and product saturation.
Monitor hair every 10 minutes. Do not process more than 45 minutes.
Rinse and use the included shampoo and conditioner. Dry and style hair as desired.
For a PDF of full detailed instructions, please click here.

Results may vary depending on starting hair level, texture, porosity. Hair that is thick or longer than chin length may require more than one box.

CAUTION:
Do not mix Color Oops Conditioning Bleach in a metallic bowl or allow it come in contact with any metallic surface.

This and all bleach products will stain. Avoid contact with clothing, furniture, countertops, etc. Wear gloves during application. Avoid contact with eyes. This product must not be used for dyeing or bleaching eyelashes or eyebrows, doing so may cause blindness. Hair bleach can cause severe allergic reaction. This product contains ingredients which may cause skin irritation on certain individuals. A preliminary patch test should be first made 48 hours prior to use by applying a small mixture of oxide and bleach oil on a small cleansed area the size of a quarter behind the ear or the fold of the elbow. For this test, do not mix in the bottle and do not use any metallic tools. Apply the mixture with a cotton swab or cotton ball and allow it to spot dry. Do not wash or disturb for 48 hours unless you experience significant irritation or skin reaction. If irritation is apparent, do not proceed with application. Do not bleach your hair if you have a rash on our face or sensitive, irritated or damaged scalp. Do not use if you have ever experienced any reaction after bleaching your hair.

See complete instructions for more information and cautions.

MORE INFO
Color Oops Conditioning Bleach is gentle enough for multiple applications of lift depending on the condition of the hair. Always perform a strand test and always use caution when processing with hair bleach to avoid over-processing.
INGREDIENTS
Bleach Ingredients: Water, Laureth-10, Propylene Glycol, Ethanolamine, Laureth-4, Cetyl Alcohol, PEG-2 Cocamine, Methoxyisopropanol, Isopropyl Alcohol, Cocos Nucifera (Coconut) Oil, Aloe Barbadensis Leaf Juice, Hypericum Perforatum Flower/Leaf/Stem Extract, Perfume, EDTA.

Oxide Ingredients: Water, Hydrogen Peroxide, Acrylate/Steareth-20 Methacrylate Copolymer, Polyquaternium-7, Stannate, Phosphoric Acid, Disodium Phosphate, Borate, Hydroxide.

Shampoo Ingredients: Deionized Water, Ammonium Lauryl Sulfate/Ammonium Laureth, Sulfate/Cocamidopropyl Betaine/Cocamide DEA, Polyquaterniurn-7, Borate, Boric Acid, Quaternium-15 & Disodium EDTA.

Conditioner Ingredients: Deionized Water, Trimethylsilylamodimethicone (and) Laureth-4 (and) Laureth-23, Cetearyl Alcohol, Behentrimonium Methosulfate (and) Cetearyl Alcohol, Cetrimonium Chloride, Cocodimonium Hydroxypropyl Hydrolyzed Protein, Oil, Aloe Vera Oil, Quaternium-15 & Disodium EDTA.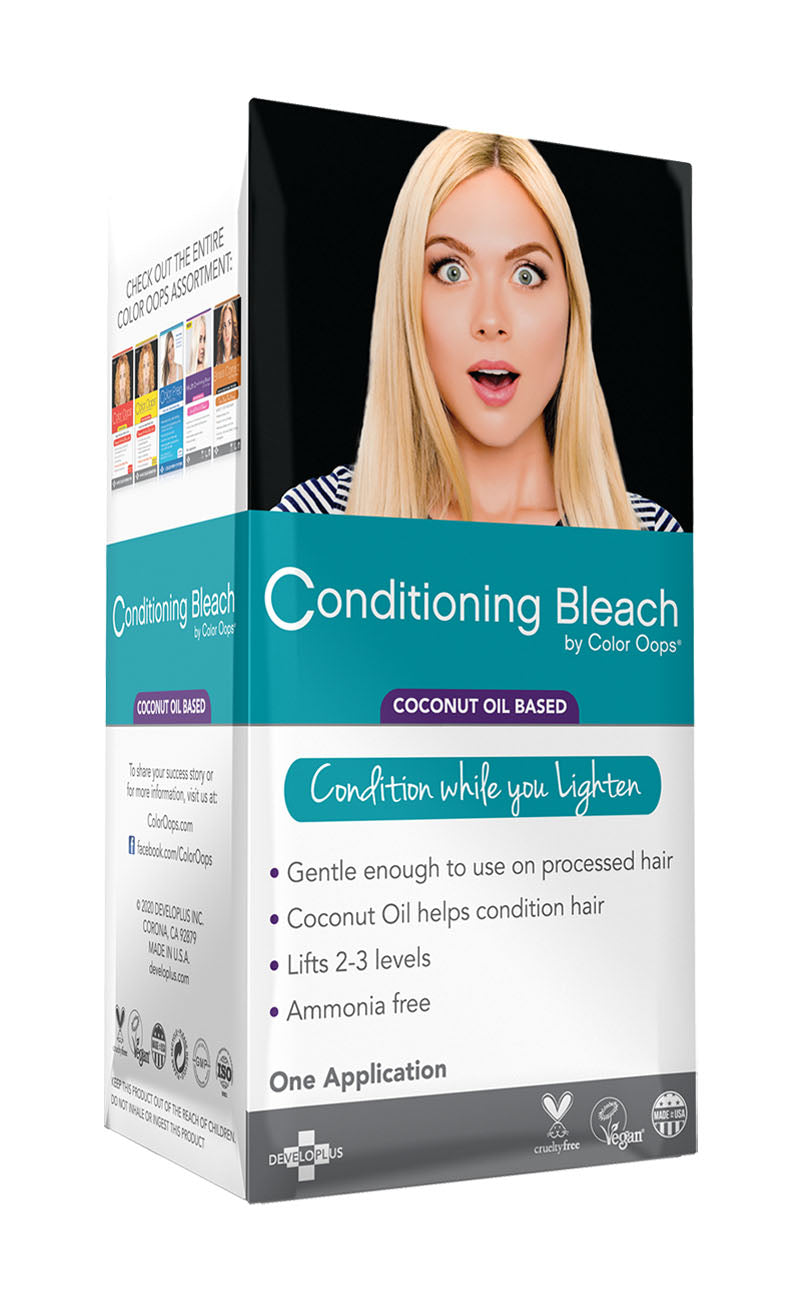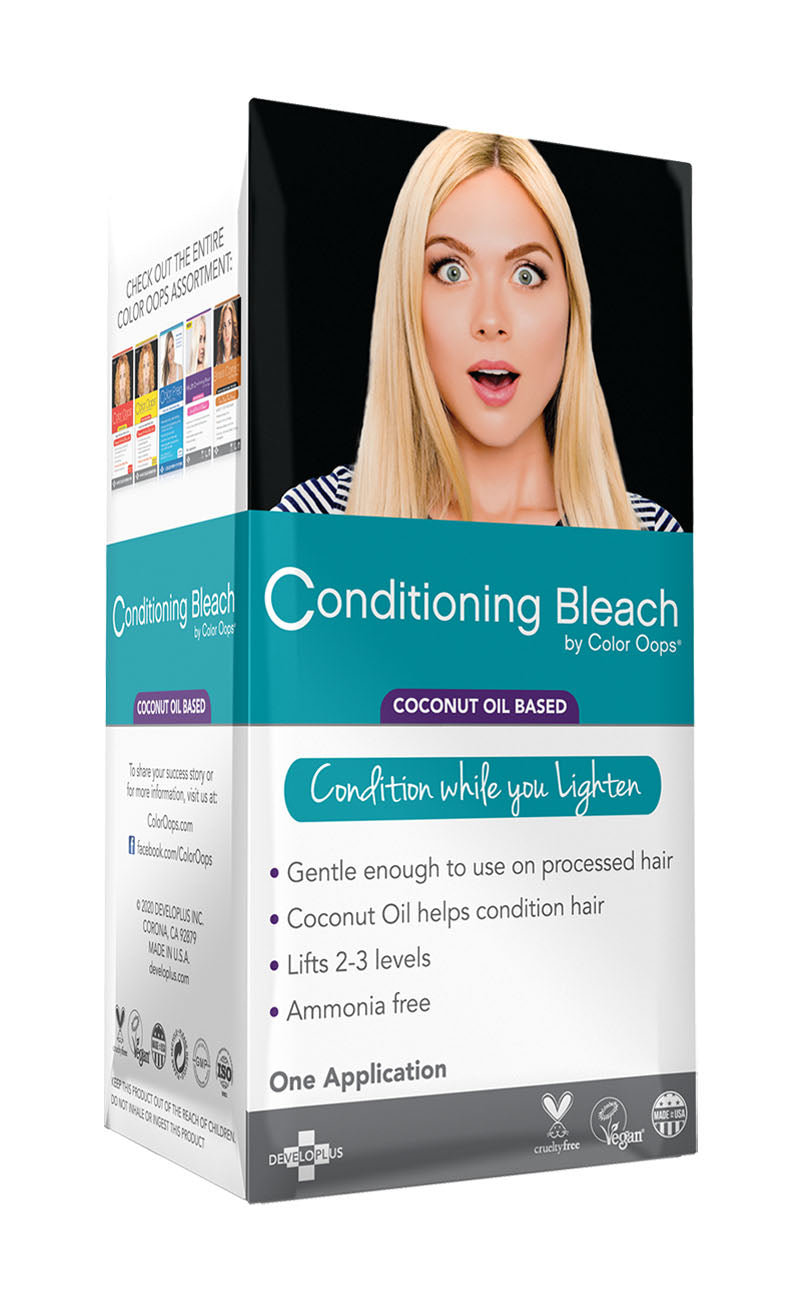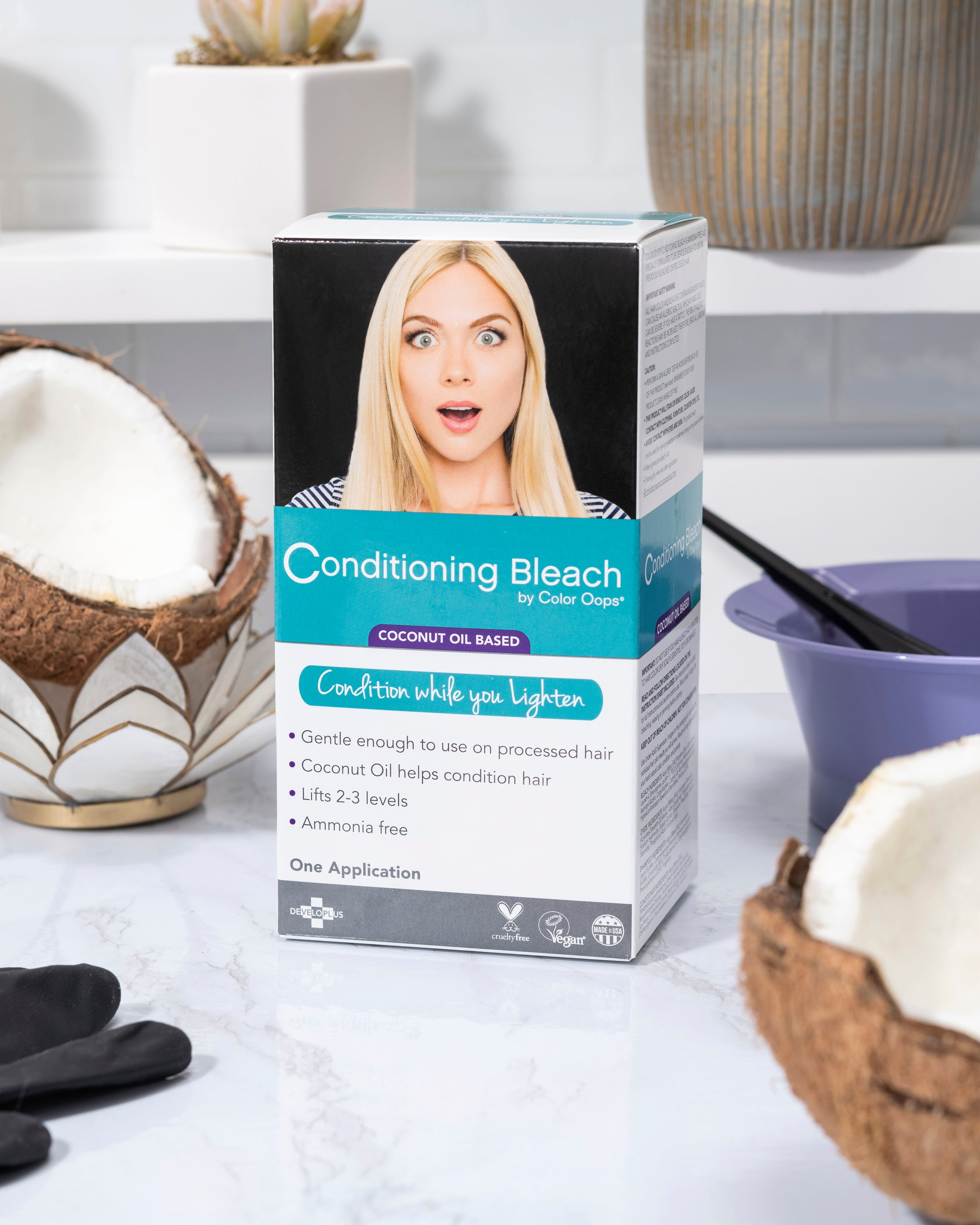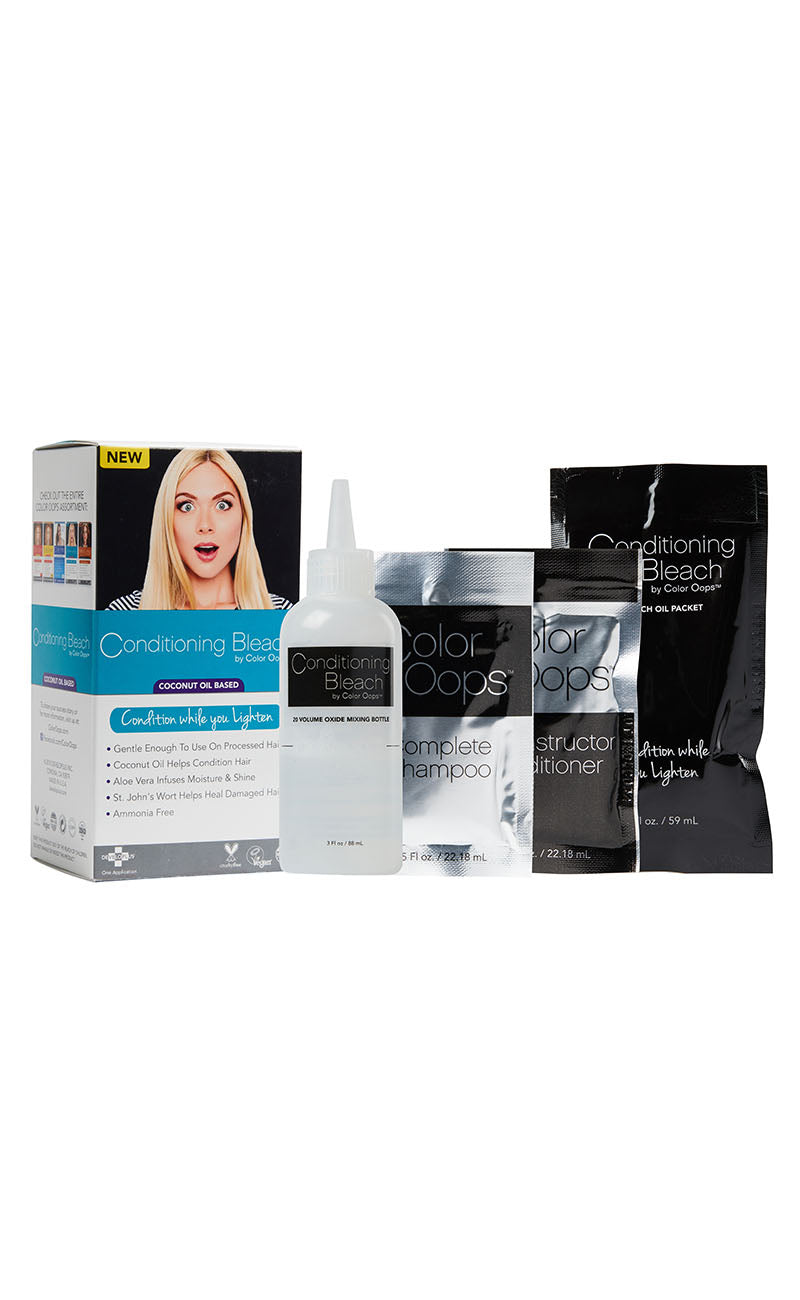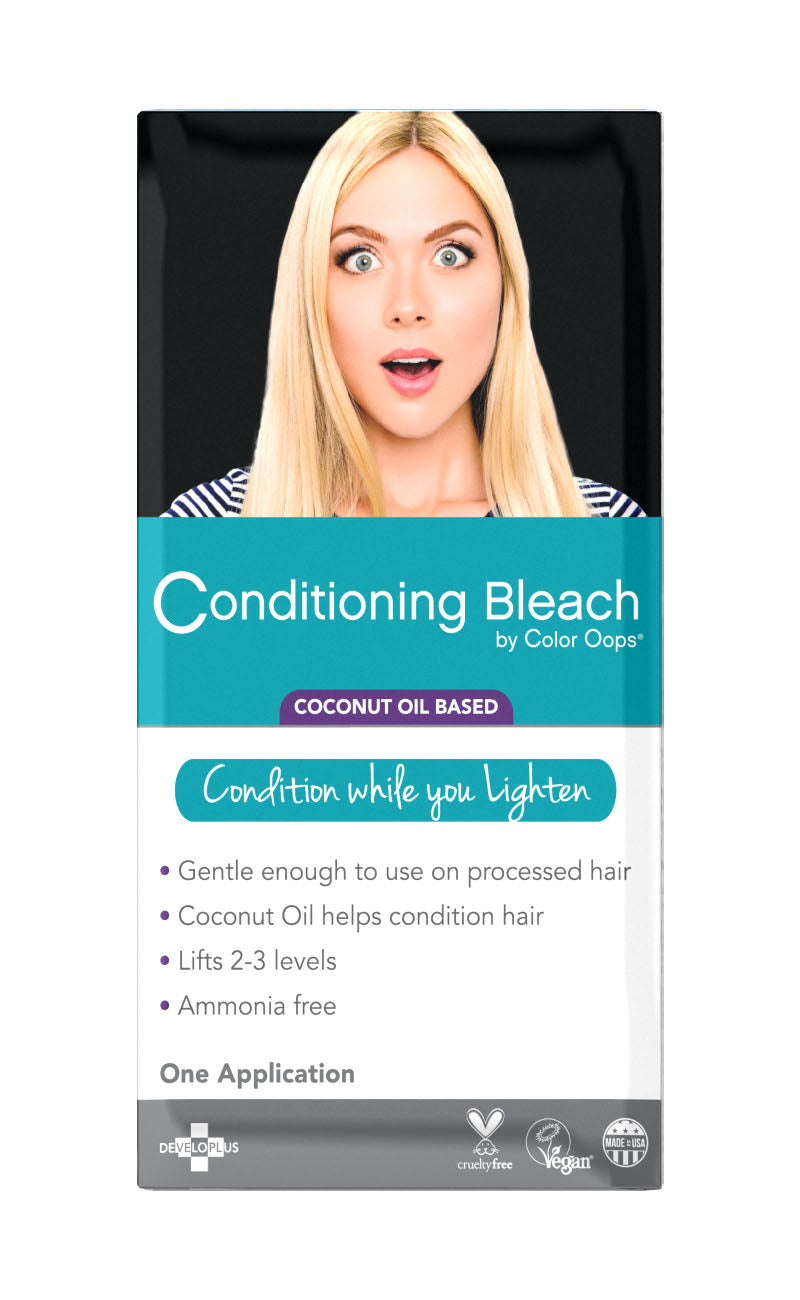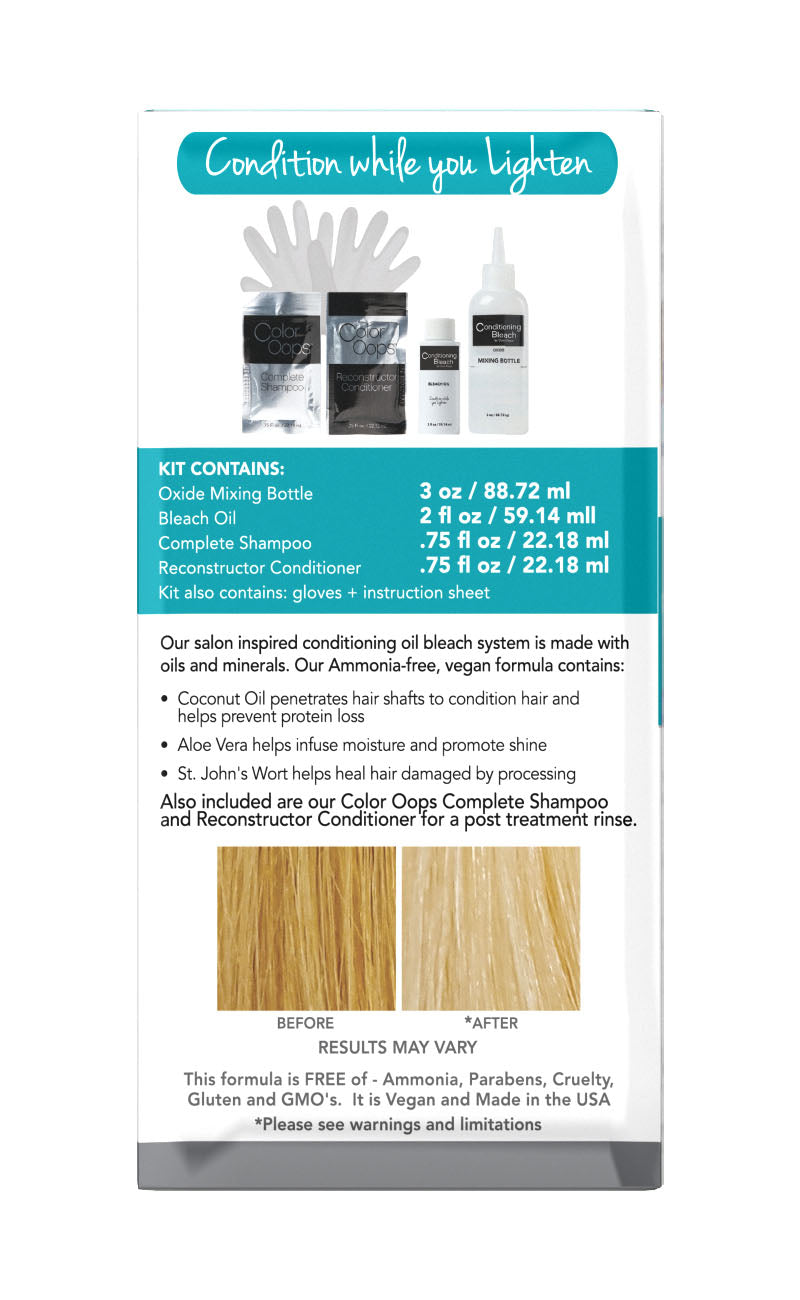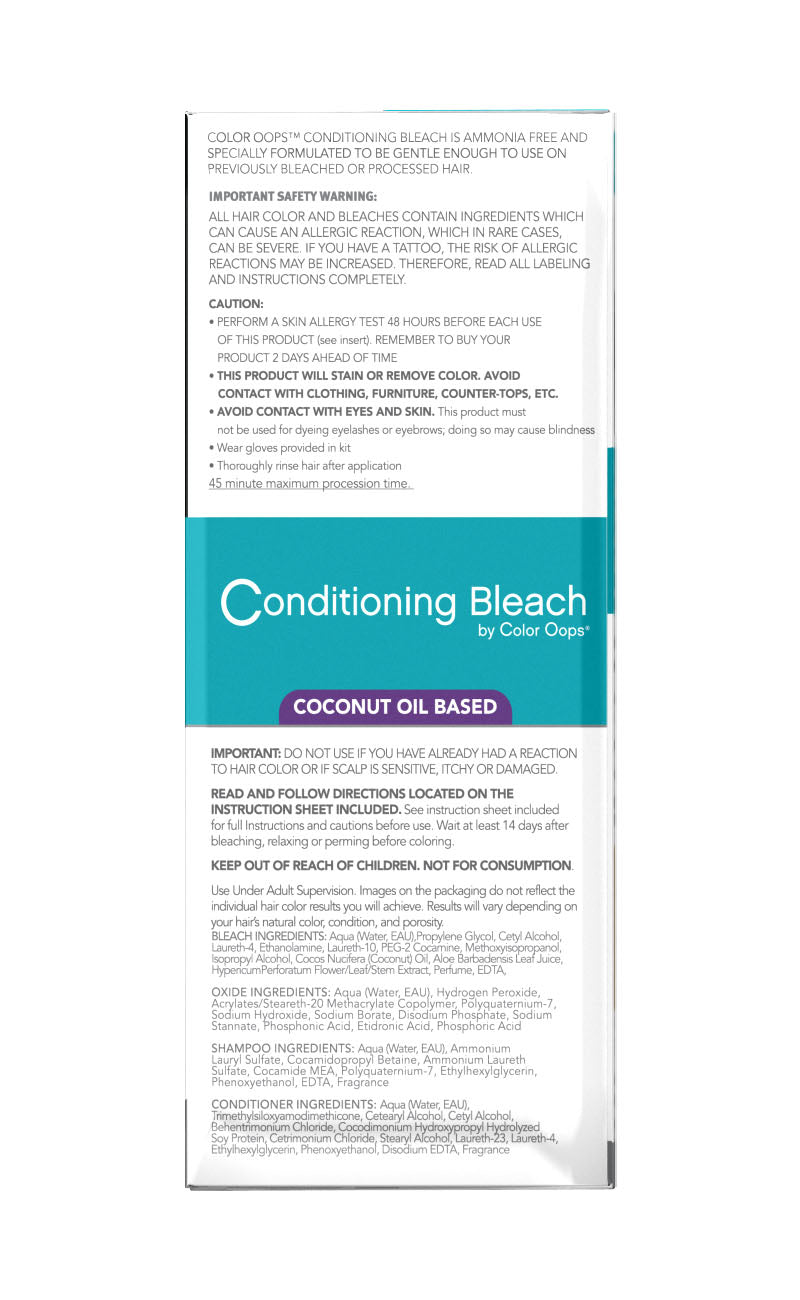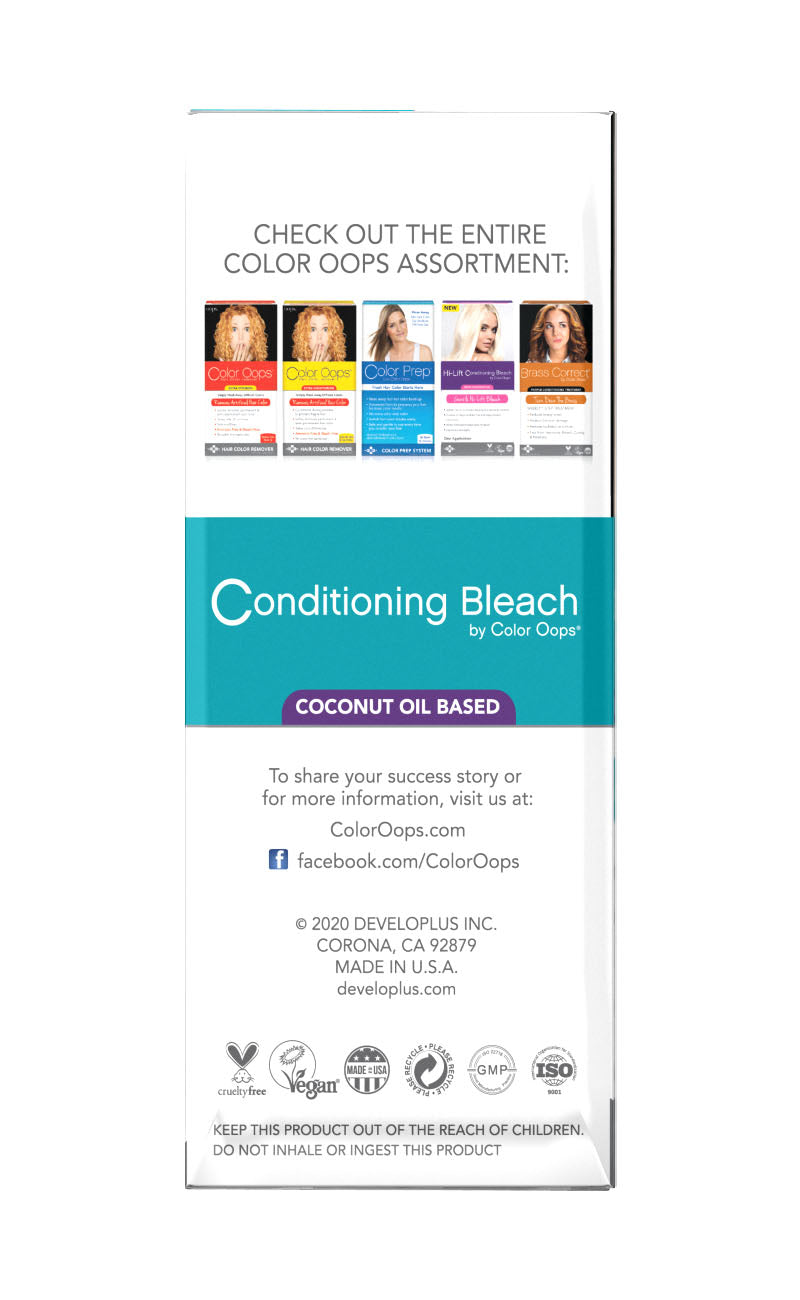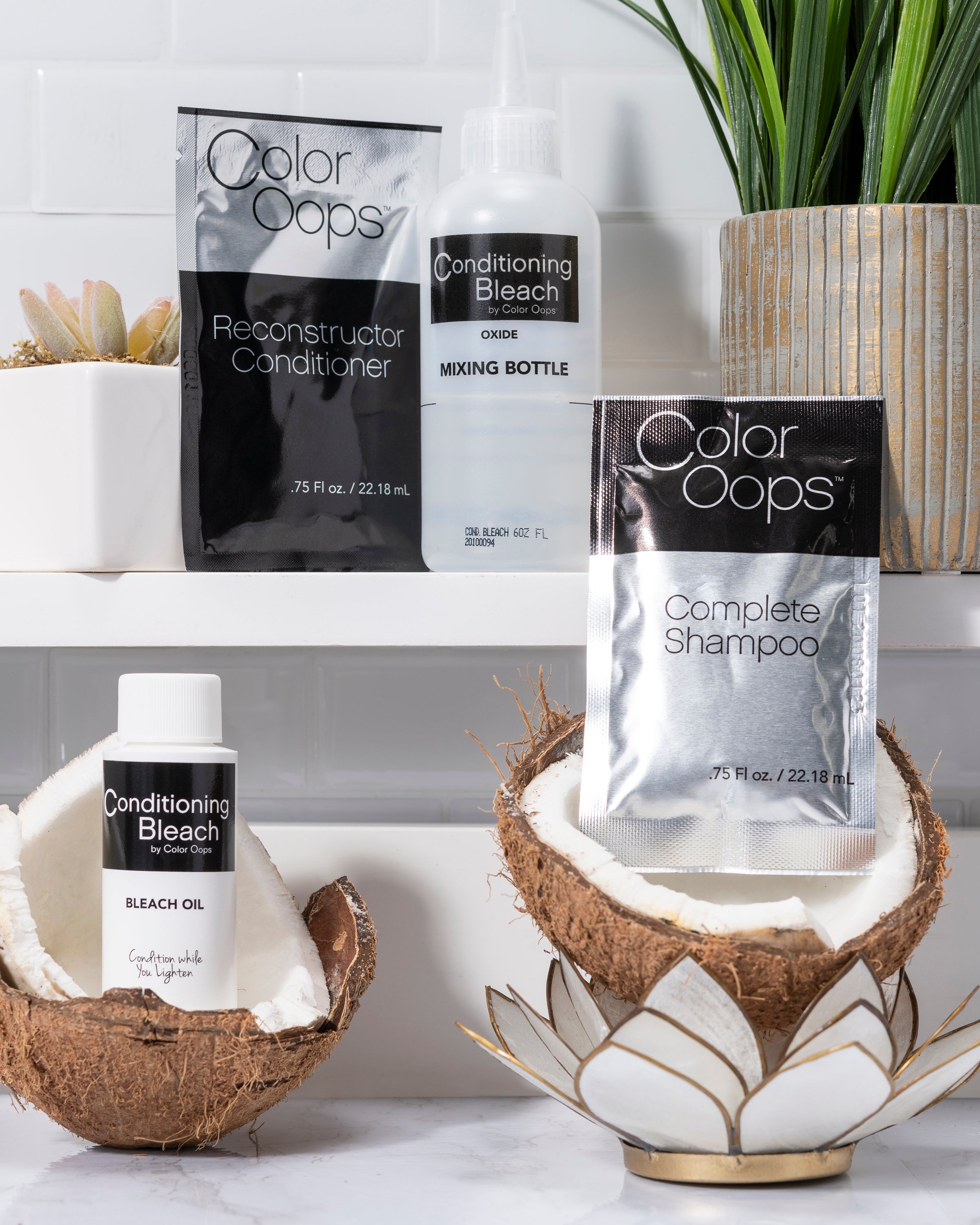 TESTIMONIALS
I have been using Blonde Protect for 3 months since dying my hair a lighter blonde and it keeps my color from fading and discoloring. My hair has been stronger and I have less breakage which was a huge concern after bleaching my hair.

ANNA W
Blonde Protect has been a lifesaver on my hair! I have been bleaching it for years and it finally doesn't feel like straw. My hair feels softer and has been growing much faster. I use it after every bleach touch up and the results are awesome.

RYAN T
Cruelty Free
All of our products are vegan and cruelty-free.
Free shipping
For all U.S. Order Over $35

100% Guarantee
If you're not satisfied, please contact us!